Tips and Tricks from Share Good Foods Customers in the Food and Beverage Industry.
Share Good Foods reached out to one of our top accounts in the coffee business to get their expert advice on increasing food sales. Her stores average over 25% of their revenue in Food sales. Here's to great sales and happy customers!
display to promote all the yummy selections for a customer.
1. ALWAYS ALWAYS Ask—
Would you like something to eat with that?
Would you like some breakfast?
Are you hungry?
Have you tried any of our food?
I don't ask all these questions to the same person. I will ask one of these questions. Over the years I have realized that most people are thankful that I asked. Many times I have heard, "Oh thank you, yes I need breakfast." "Oh, I didn't know you had breakfast." Yes, I need ________."
2. Show people how GOOD the food is! —
People are funny- most do not want to spend their money if they have any doubt that it will be good. So, over come that barrier . . .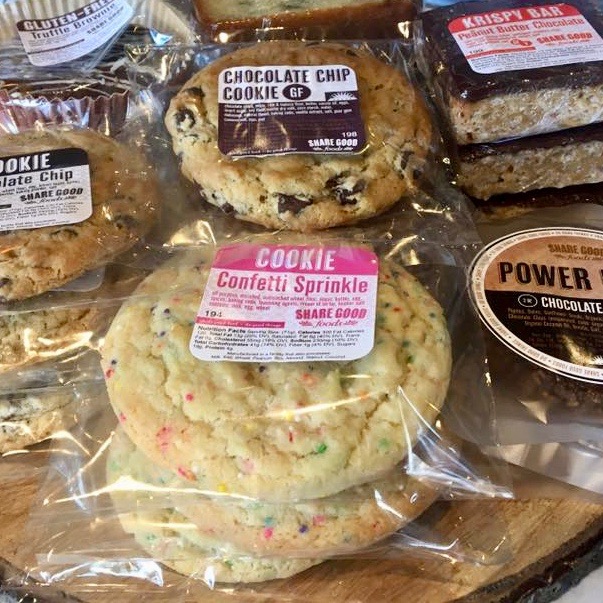 Stack up several items so everything is approachable and inviting. No museum displays!
Samples - I try to have lots of samples so they will be able to know it is good and worth their money. I will sample out all our food at different times of the day. Sammies, breads, scones and pastries usually in the morning. Sandwiches and panini over the lunch hour. Cookies, Truffle Brownies, Power Pucks, Krispie Bars at lunch or in the afternoon. Sometimes I will look at our stock to see what we have lots of and sample out that item.
Displays - I also like to change my displays. I will have wrapped breads and coffee cake stacked on a cake plate for a couple of days then I will put them on a wooden tray and move it to the other side of the point of sale (POS). We are creatures of habit and some people never look to see what you have by the POS.
Keep it clean and full - The display trays that are in the display case need to be clean. I have all the crumbs picked up and the display trays full. I think that is really part of the success. It looks like I believe in the product because I have invested and have lots of it to chose from. Now there will be a time when I have sold out of most of them but in the morning my tray will be full again.
Be your best advertising - Encourage your staff to eat the food. Give them a very generous discount, allow them to eat all the expired food offer them a Sammie for breakfast. When your staff likes the food or at least have tried it, they can promote it to customers. Many people will ask "what's your favorite panini? Sandwich? Muffin? Oatmeal?